30/08/2012 - Nosferatu D2 Retrospective on BBC World Service/PRI's The World!
Wow! Myself and Ben Parker of Nosferatu D2 (our first ever signing) were pretty surprised to be summoned to the BBC studios to record interviews for a nationwide North American radio show! You can stream this short piece now on TheWorld.org - and you can totally hear me trembling!
It was a real pleasure to get to do this and a massive surprise that anyone would want us to! Combining this with us getting to do a similar thing for Tom Robinson's BBC 6 Music Show back in 2011...well, we feel like superheroes.
01/04/2012 - Jack Hayter - The Sisters of St. Anthony

Jack Hayter

makes his return, following 2011's gorgeous "Sucky Tart" EP with a year long series of monthly singles and exclusive B-sides entitled

"The Sisters of St. Anthony"

. You can stream the first single (with guest artwork from

Benjamin Shaw

) and subscribe to this year of music for a mere £4.99.

Have a look:


27/02/2012 - Audio Antihero Presents: "Some.Alternate.Universe" a charity comp for FSID.org.uk

Audio Antihero are proud to present the mighty "Some.Alternate.Universe" compilation to raise money for The Foundation for the Study of Infant Deaths (FSID).

BUY 'SOME.ALTERNATE.UNIVERSE' NOW FROM BANDCAMP.

This charity double album features 36 tracks for a minimum donation of £3.99 (give more if you can!) including exclusive tracks from the entire AAH roster (Nosferatu D2, Benjamin Shaw, Jack Hayter, Broken Shoulder, Wartgore Hellsnicker, Paul Hawkins & The Awkward Silences and Fighting KItes) and musical donations from Jeffrey Lewis, PAWS, onelinedrawing, The Art Goblins, Johnny Foreigner, Internet Forever, Still Corners and many many more.
Please help to spread the word about the comp and the cause. You guys are the best.

01/02/2012 - Benjamin Shaw live in session for The Line Of Best Fit

Benjamin Shaw

can be seen performing 'How To Test The Depth Of A Well' from his new "There's Always Hope, There's Always Cabernet" album live in session for TLOBF:
Benjamin Shaw's "There's Always Hope, There's Always Cabernet" is available now - Order.

07/01/2012 - NEW SINGLE & JANUARY SALE
HAPPY NEW TEAR. We're celebrating with the dignity of a

'we totally didn't blow all our money in 2011 and are now needing to desperately recoup some'

J

anuary Sale

! You can

Buy 1 Get 1 Free

on 2011 CD EPs and score a

15% discount

on the rest of the catalogue, incuding

Benjamin Shaw

's sublime new album,

Nosferatu D2

's classic debut and the furious

new single

from

Paul Hawkins & The Awkward Silences

.

21/11/2011 - BENJAMIN SHAW - THERE'S ALWAYS HOPE, THERE'S ALWAYS CABERNET
It's here! The debut album from

Benjamin Shaw

is out now. Make our years and months of toil worthwhile by buying it from

Bandcamp

/

iTunes

/

Amazon

/

Play or Rough Trade. LAUNCH PARTY ON FRIDAY!


"If you think you've heard the likes of Benjamin Shaw before, think again. TLOBF Recommended." – The Line Of Best Fit

"Brilliant." – Tom Ravenscroft, BBC 6Music

"Benjamin Shaw is an outcast, a loner, a maverick and a freak. All of these are compliments."– CLASH

"Heartbreaking genius."– This Is Fake DIY

"A superb start to the man's recording career." – Drowned in Sound

"A mix of lo-fi and fuzzy production and sadistic images of decapitated limbs in a freezer." - Bearded

The album will be launched alongside Audio Antihero's 2nd birthday party on Friday the 25th of November at The Miller with live sets from Benjamin Shaw Band, Fighting Kites, Jack Hayter and Broken Shoulder. Plus DJ sets from Ben Parker (Nosferatu D2), Paul Hawkins (The Awkward Silences) and Stroke Your Beard. *FREE ENTRY*
10/11/2011 - AAH BIRTHDAY PARTY & BENJAMIN SHAW ALBUM LAUNCH
WE ARE HAVING A PARTY! WE ARE RELEASING AN ALBUM!
Recently, Audio Antihero enjoyed it's 2nd birthday. We have endured this endless, sexless, success-less ordeal for what seems like an eternity. On November 25th we're launching what feels like our life's work...Benjamin Shaw's debut LP "There's Always Hope, There's Always Cabernet".
This means a whole lot to us and I hope you'll enjoy the album, a truly proud moment in our short history. I also hope that you'll be along to see us on November 25th at The Miller, near London Bridge? The event will include performances from Benjamin Shaw Band (debut!), Fighting Kites, Jack Hayter and Broken Shoulder! Plus guest DJs Ben Parker (Nosferatu D2), Paul Hawkins (The Awkward Silences) and our favourite promoter Stroke Your Beard. Free entry and cheap merch.
PRE-ORDER THE NEW ALBUM (discounted pre-order prices)
10/10/2011 - FIGHTING KITES & BROKEN SHOULDER "SPLIT" - OUT NOW
NEW RELEASE! THEY JUST KEEP COMING! The final part in our '2011 Commercial Suicide EP Series' comes in the form of a split from Fighting Kites & Broken Shoulder.
Fighting Kites are a glorious post-rock-noise-pop band who've played with Male Bonding, Shield Your Eyes, Ruins, Benjamin Shaw, Wartgore Hellsnicker, Shoes & Socks Off, Jack Hayter and Nisennenmondai.
Broken Shoulder returns to the Audio Antihero stable with an even darker set of LO-TRON recordings. With press and praise in The 405 and star grazing sessions for Resonance FM, Dandelion Radio and WVUM, BroSho has made quite a name for himself in this made up scene
"Rather delightful." - Gideon Coe, BBC 6 Music
"Post-Rock in the good way, the way that made me buy every single Tortoise album... Instrumental, melodic and pleasantly sun-drenched." - Right Where You Are Sitting Now
"This split is an intriguing mix of light and dark from some rather exciting new British acts – 8/10." - The Music Fix
Free Track: Download a free track from each artist via Bandcamp
The split EP will be launched at Ryan's Bar in Stoke Newington on October 22nd - MORE INFO
31/07/2011 - AVAILABLE NOW: PAUL HAWKINS & THE AWKWARD SILENCES' NEW EP
Another foolhardy new release from us in our '2011 Commercial Suicide EP Series'.

This time the monsters in question are

PAUL HAWKINS & THE AWKWARD SILENCES

anti-folk/post-punk/outsider-pop superstars! They return at last with "THE WRONG LIFE"; a 5 track EP of Twisted Americana, Sinisiter Pop, Sardonic AOR and Zombie Balladry.

Free track available: "Gomorrah".
"The Wrong Life" EP is available now from Bandcamp

,

iTunes

,

Rough Trade

,

Amazon and Jezus Factory.
Bandcamp: CD £3.49 and D/L £1.78
Paul (THE HAWK) was interviewed by CLASH MUSIC which you can read HERE and also wrote a 'Track By Track' feature for The 405 which you can see HERE.
08/06/2011 - NEW EP UP FOR PRE-ORDER AND LAUNCH GIG
PAUL HAWKINS & THE AWKWARD SILENCES' "The Wrong Life" is the next EP in our "2011 Commercial Suicide Series" and is available for pre-order on CD & Download - BUY. You can stream 2 tracks from it now and claim a free download too.
Additionally we're co-promoting our first ever gig to launch this special blighter at The Brixton Windmill on July 1st with supprt from AAH super-gods Wartgore Hellsnicker & Jack Hayter.
30/05/2011 - WARTGORE HELLSNICKER'S "Moderate Rock" is OUT NOW
BUY THE GRUNGE! BUY THE GRUNGE! BUY THE GRUNGE!
Available now: Bandcamp / iTunes / Rough Trade / Amazon
"An eleven minute joyride-8.2/10"
-
The Whiteboard Project

"A strange and addictive amalgam of grunge, jazz and blistering noise - 8/10."- The Music Fix

"A celebration of imperfection and ugly...music for people that don't like other
people."– Glasswerk

"Brutally propounds an SST-flavored guitar attack abetted by an RFTC-esque horn
section (that conjures occasional klezmer outbursts)…Aural ambrosia for the
disaffected."– Clicky Clicky
We are very much still specialists in commercial suicide. Ho hum!
20/04/2011 - Pre-Order: WARTGORE HELLSNICKER'S "Moderate Rock"
WE ARE LIVING THE DREAM!
Pre-order our May 30th release WARTGORE HELLSNICKER'S "Moderate Rock" EP now. Available on CD & Download.
It finally happened. Audio Antihero are back on the rocking horse with Wartgore Hellsnicker who you might remember for their awesome contribution to our "Bob Hope would." charity compilation?
Stream the EP now with a free download - HERE
Read Clicky Clicky Music's review - HERE
Why am I marketing it like a Sub Pop 1989 release? Because I really, really want to.
24/03/2011 -"Bob Hope would." - a benefit compilation for Japan
Everybody! We did the right thing for a change! (Putting the 'hero' in 'antihero'),
We have so totally put together a 34 track compilation in aid of Japan. It features exclusive (and otherwise) tracks from Audio Antihero artists like

Nosferatu D2, Benjamin Shaw, Jack Hayter, Broken Shoulder

(album out 27th!)

, Wartgore Hellsnicker

and

Paul Hawkins & The Awkward Silences

(all of them awesome) but also kindly contributors like

Darren Hayman, Shoes & Socks Off, Stagecoach, The Victorian English Gentlemens Club, Runaround Kids, Extradition Order, Fighting Kites

and a million more.
Buy it now for £3.99 (or choose to donate more) from

BANDCAMP.
All money to be split between

The Japan Society, Shelterbox, Red Cross, Save The Children

and

The Japan Earthquake & Tsunami Fund.
16/03/2011 - BROKEN SHOULDERRR out March 27th!
GAMETIME BOYS AND GIRLS,
Audio Antihero's continuing adventures lead us into darker waters! March 27th brings the release of our first 'digital only' release (there's a lovely CDR available from the artist though). BROKEN SHOULDER'S "Broken Shoulderrr".
ORDERRR NOW:
"The effect is hypnotic and the minimal composition somehow turns it into something almost symphonic…epic and beautiful...the sound of the summer but at a sub-atomic level." - Right Where You Are Sitting Now
"'Broken Shoulderrr' has a uniqueness which will push you to your limits." – Resonance UK
It's very different to what's come before and is different to what's coming next but I hope you'll enjoy it as much as we do. It's a beast BUT YOU CANNOT SLAY IT.
16/02/2011 - Audio Antihero guest blog for BBC 6 Music
"How To Make The Best Of A Dying Industry Despite Being A Shy & Unremarkable Fellow:
The Jamie Halliday Story"


You can read this list of DO/DONT for running a doomed DIY label now on the BBC site: GOGO!

Big thanks to Tom Robinson and company for being so lovely.

31/01/2011 - Jack Hayter's "Sucky Tart" EP out now!
Our main man, the feature creature, the Doctor Jackyl is back. Jack Hayter's "Sucky Tart" EP is available now on CD from our webshop for £3.99. You can also get it from iTunes, Play, Amazon, Rough Trade, HMV, eMusic, etc. Just click HERE for a whole heap of retail options.
Some people have liked it. You ought to be one of them.
Jack Hayter has been keeping pretty busy since his play on 6 Music last week. He recently recorded a session and interview for Propaganda Radio (LISTEN HERE) and has several sessions coming up for Resonance FM (Feb) and Dandelion Radio (March).

Jack has also collaborated with his ex-Hefner bandmate,

Darren Hayman

, on his January Songs project (more information HERE). Fans of Darren & Jack will be able to see them both live at The Lexington on January 30th. For more live dates see his Facebook, Twitter & Songkick.
You can pre-order Jack's

"Sucky Tart"

E.P now from our Webshop.


08/01/2011 - Audio Antihero & Nosferatu D2 interviewed on BBC 6Music
A lovely man by the name of Tom Robinson interviewed myself and Nosferatu D2 frontman Ben Parker on his Introducing show. Listen: http://www.bbc.co.uk/programmes/b00xb7d7
He also plays a song from the upcoming Jack Hayter EP "Sucky Tart" which you can pre-order from our shop.
Also, there's an Audio Antihero JANUARY SALE BONANZA on Bandcamp right now.

25/12/2011 - It's Christmas Time (For God's Sake)
Merry Christmas everyone and a happy new year while I'm here.

You can listen to our 'best of the year' mix on the old MIXCLOUD.

Enjoy! We're specialists in Christmas Suicide, man. New record next month. Pre-Order now.

04/12/2011 - Jack Hayter's "Sucky Tart" E.P Available For Pre-Order
FINALLY! Audio Antihero are actually releasing a new record!
Jack Hayter (HEFNER / SPONGEFINGER / DOLLBOY) unleashes the "Sucky Tart" EP on January 31st. This will be available on CD and as a download. You can pre-order now in our webshop. The lovely cover was designed by Benjamin Shaw.
There'll be more information, music, fun and majesty very soon - but not yet. We're too busy getting the beast finished on time!
We leave you with a WARNING from the artist: "Fidelity can sometimes be a hostage to enthusiasm."
31/10/2010 - All Hallow's Eve Podcast & Benjamin Shaw's "Rumfucker" album
Happy Halloween ghouls and fools. You are instructed to listen to our All Hallow's Eve mix HERE and when you have had your fill of that you can download the free "Rumfucker" album from

Benjamin Shaw

(written and recorded inside of one month).
19/10/2010 - Benjamin Shaw's "I Got the Pox, the Pox is what I Got" Available Now
Our mumbling monster Benjamin Shaw is no longer an isolated incident. You can order his EP digitally worldwide from places like:
iTunes / Amazon / eMusic / Play / Napster / HMV & others. Cheapest is currently HMV & 7Digital at £1.79. Which is outrageous.
The pretty CD is also available via
Amazon.co.uk & Play.com
. Or you can nab the CD and T-Shirt at discounted 'deal' prices (cringe) - this is all happening in our WEBSHOP.

Benjamin Shaw also has a bunch of London gigs happening in November-CHECK HERE FOR DATES
13/10/2010 - Nosferatu D2 Available Woridwide Digitally
Just what the market was begging for!
Nosferatu D2's debut album is now available to buy digitally from places like:
iTunes / Amazon / eMusic / Play / Napster & others

Benjamin Shaw's EP will get the same treatment come the 18th of October. You can pre-order it from Play.com for a shocking £1.85: PRE-ORDER.
We hope this'll be a help to our beloved Foreigners as we know the international shipping and conversion rates have been a nuisance for you. Never Say DIY!
04/10/2010 - Catalogue available on Amazon & Play.com
If you're a freak who still doesn't trust paypal you can now order our records from Amazon.co.uk & Play.com. Digital releases are set to follow with Nosferatu D2 out worldwide on the 11th and Benjamin Shaw following on the 18th.
18/09/2010 - Audio Antihero's Suicide Sampler online now
Audio Antihero's Suicide Sampler online with a digital mixtape and free mp3s. Please share the noise.
25/07/2010 - Audio Antihero's "Never Say DIY!" Radio
We've started up our own podcast/radio thing, it's pretty good. For one, it means that despite having no money to release any albums we can still forcefeed you some music.
Head over to: AAH's "Never Say DIY!" Radio
11/05/2010 - T-SHIRTS?
We totally have t-shirts!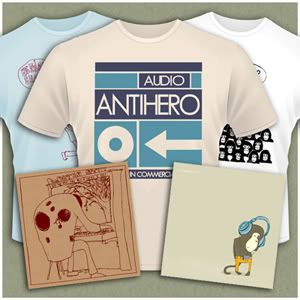 Nosferatu D2, Benjamin Shaw and Audio Antihero t-shirts available from the webshop! There's also some cunning deals/steals. The t-shirts were Printed by Monster Press. The Audio Antihero design was done by Cassie P Design, the Nosferatu D2 design was crafted by David Broadbent (who did the album art too) and Benjamin Shaw did his own morbid design.
Numbers are quite limited (less than 50 of each design).
05/05/2010 - INCOMING WITH A VENGEANCE (we have t-shirts)!
Here's the final in our 'sneak previews' (milking it? us?) for our new t-shirts (scroll down for the others).
These will all be available to buy STAT (next couple of days)! Keep up to date on TWITTER.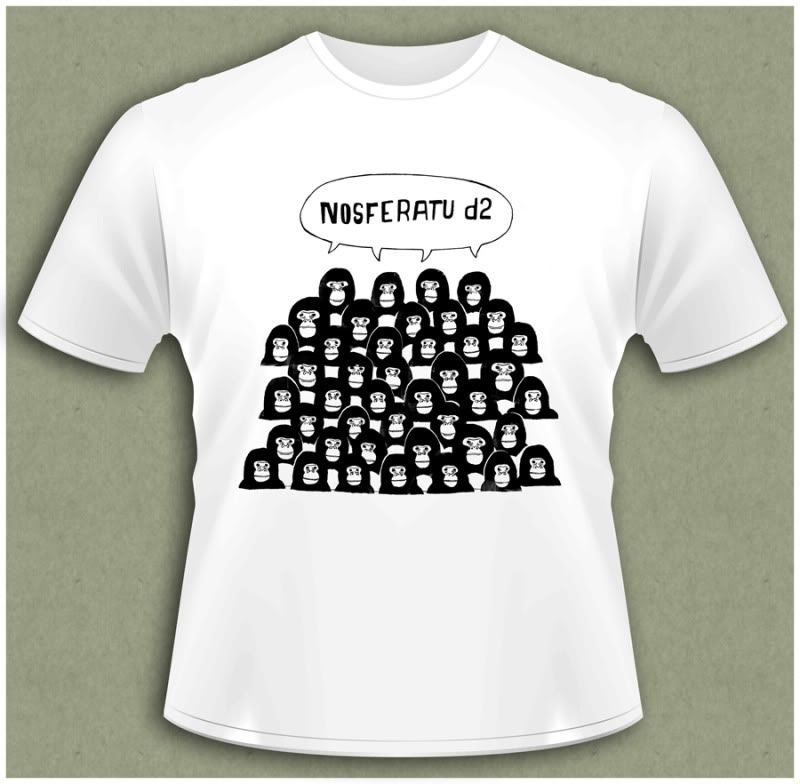 This t-shirt was designed by a Mr David Broadbent who designed the Nosferatu D2 album and the art for the upcoming Superman Revenge Squad EP, "Dead Crow Blues".
04/05/2010 - INCOMING-ER!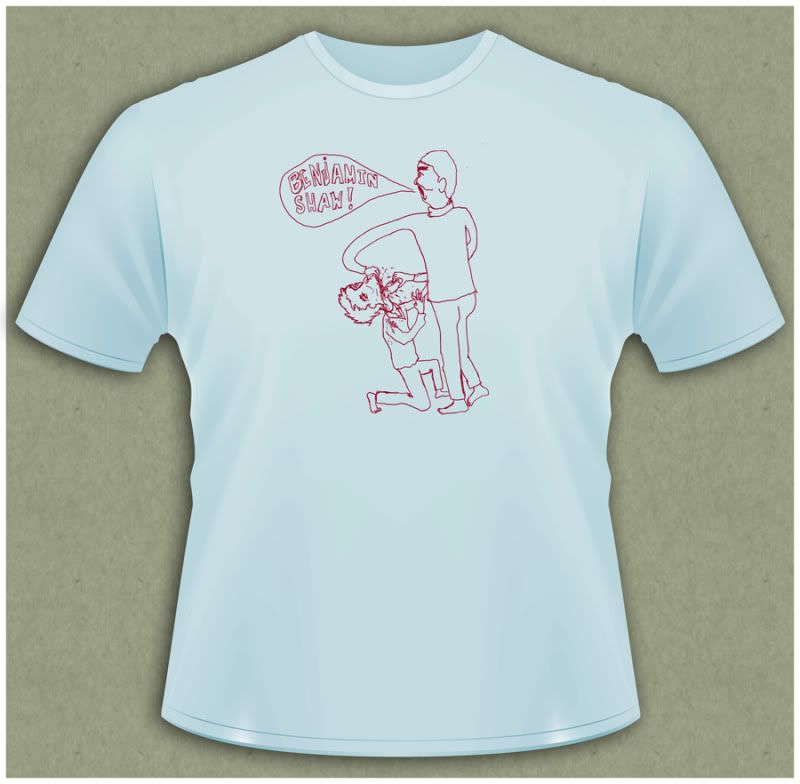 Here's your second sneak peek at the new t-shirts we're having done. Benjamin Shaw in all his gory glory. I hope to have a preview of the Nosferatu D2 t-shirts online tomorrow.
These will be available to order soon (next few days).
Rock On!
23/04/2010 - INCOMING!
As the subtle illustration above might hint, we're getting t-shirts done.
In fact, we're expecting to have them by the middle of May. We ain't no April fools.
The above design is courtesy of a fine young designer by the name of Cassie Podish of Cassie P Design (found out more about her HERE), she's terrific, and former clients include Asian Man Records (who did all the really wonderful early Alkaline Trio records).
We've also got rockin' designs (that I might sneak you a peek of later) coming in for Nosferatu D2, by David Broadbent (who else?!) who did the art work for the Nosferatu D2 album and the upcoming Superman Revenge Squad EP - and Benjamin Shaw who made his design himself (it's as gruesome as we've come to expect from our pox-ridden friend).
These will be available to order soon from the shop, keep up to date with us on here or on the Twitter.
Thank you.
Jamie - Audio Antihero
P.S Anyone hear Nosferatu D2 & Benjamin Shaw on Tom Robinson's BBC 6 Music show last week? That was awesome!
02/04/2010 Birthday Blues/April Fools
As I face the final day of my 22nd year, I thought I'd better do another site update.
Firstly, you can now get Nosferatu D2 & Benjamin Shaw CDs from Sister Ray in London (one of my favourite record shops), the Southern Records webshop (DIY heroes) and the Jezus Factory online shop (the awesome label who release all the Paul Hawkins & Thee Awkward Silences stuff). Go to the shop page for links and more information.
If you're down in Australia (a place where sharks and crocodiles actually fight) you can order the Benjamin Shaw EP from Half a Cow Records, which is run by Nic Dalton of The Lemonheads & The Gloomchasers. Which is really nice.
Also, Ben Parker of Nosferatu D2 is preparing his new Superman Revenge Squad EP for release on Smalltown America Records. It's called "Dead Crow Blues" and will feature Adam Parker on drums too. Keep an ear to the ground for that one.
T-shirts coming soon too. Just trying to find the time!
Stay in touch!
Jamie - Audio Antihero
21/02/2010 Haiti Appeal
Some of you may already know this, but Audio Antihero have put together a small Haiti appeal over at Just Giving: HERE. For more details please follow the link, there's free stuff and Nietzsche quotes in it for you. Please consider it.
Beyond the HUGELY important, comes the very very nice.
Firstly, Benjamin Shaw (who has lots of gigs coming up, do have a look at his myspace) has been confirmed for a spot on the upcoming Pavement tribute album, entitled 'Tell Me A Word That Rhymes With Pavement" and released through Filthy Little Angel Records (who coincidentally once released a compilation with an old Nosferatu D2 song on it too). Benjamin will be contributing "Starlings of the Slipstream". Other contributers include Jack Lewis, Cats Cats & Cats, Captain Polaroid, International Karate Plus and Horowitz.
Nosferatu D2 got a really, really nice 9/10 review from Drowned in Sound this week. Chuffed.
And last but not least, Cardiff residents can now pick up our records from Spillers Records, the oldest record store in the world. Which pleases us no end.
17/01/2010 New Year: Nosferatu D2 bootleg and all star gig
Power to the people, it's a new year.
Just dropping in a wee update to say that we're still (artfully) rocking out in 2010, and we want to thank you all for your support over the last few months. You've made me things very exciting.
As a 'thank you', we've uploaded a good quality Nosferatu D2 'bootleg' to our Online Antihero Blog. Just click 'Features' above to find it. It was recorded at their last gig, supporting Los Campesinos! and Sky Larkin at The Spitz. It even features a song that didn't make the album, 'Man At War With Himself'.
So, it's 2010. We've sold a few CDs, had a lot of good reviews, had one terrible review, met some nice people, and even got featured on a few End of Year lists (exciting). This year will be a good one.
OH! And LONDON CALLING! Benjamin Shaw and Superman Revenge Squad (featuring Ben Parker of Nosferatu D2 on vocals and guitar) will be sharing a stage at the upcoming Witches Hat Club Night.
22nd of Jan, Gallery Cafe, Bethnal Green, Free Entry and Vegan Food.
22/11/2009 Free Christmas Single

Dear John,
Here's your early Christmas Present, everyone's favourite 'Alternative Christmas Single' - Nosferatu D2's "IT'S CHRISTMAS TIME (FOR GOD'S SAKE)"! It's available now as a free download from THIS IS FAKE DIY. You can lie cheat and steal your mp3 from: HERE!
Awesome? Awesome. Check out our blogger or myspace for more details, but we're really relying on you lovely people to spread the word. Whether you're 'tweeting', posting on forums or demanding it of your favouriting podcaster - we want to get this song out and about for the festive season and you truly are our Obi Wan Kenobis. We thank you!

Oh, and while you're looking at This is Fake DIY.co.uk, you may want to have a browse around for an interview with us, a free non-LP mp3 from Benjamin Shaw and a DIY TV music video for Shaw's "WHEN I FELL OVER IN THE CITY" (also on youtube & vimeo).
10/11/2009 Rocking Retail
Hello there Evil-Robot-Us'!
It's been a very exciting first couple of weeks for the ol' Audio Antihero; a blog from a Mr Gareth Campesinos! about Nosferatu D2 saw us make a few new fans (right on to you), we've been getting some lovely press and even some airplay.
The biggest revelation at the moment though has got to be ROUGH TRADE (London) and PICCADILLY RECORDS (Manchester) taking stock of our releases. So if you're in either area and would like to support some great record stores rather then paypal please do stop in.
We've also got to extend our thanks to This is Fake DIY who have been very good to us lately. Interviewing us, showing Benjamin Shaw's awesome music video on their DIY TV and hosting our tracks on their Free MP3 section. So look them up for some free music.
15/10/2009 Greetings fellow Antiheroes

After months of cussing and fussing, Audio Antihero is finally in business. That's right, you may consider us "Launched". We'll probably schedule some really rocking live events to celebrate.

Nosferatu D2's incomparable debut and Benjamin Shaw's deafeningly diseased "I Got the Pox, The Pox is what I Got E.P" are both available to order now. This is very, very exciting.

Sign up to our mailing list/myspace/facebook/twitter/yaddadeyadda for news, treats, freebies, competitions and a world of awesomeness.

Welcome friends, to Audio Antihero, the hip new label that makes Sub Pop look like Cyberdyne.
We've everything to prove and nothing to lose.

Remember to say 'Hi'.